Leroy Robertson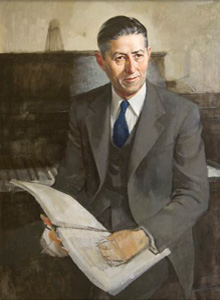 Biography
Composer and educator Leroy Robertson was born on December 21, 1896 in Fountain Green, Utah. His daughter, Marian Robertson Wilson, in her biography of her father relays how, as a young boy, Leroy had an early talent for playing by ear on the family organ. During these hours of amusement he also spun out his own tunes. At the age of ten, Leroy crafted a violin out of objects found on the family farm: a cigar box, wood, and some of his mother's embroidery thread; the hairs for the whittled bow came from one of the farm mares. In this manner, Leroy grew up, balancing his farm work and herding of the sheep with his passion and drive to create and make music. In the rural Utah town where he grew up there weren't many opportunities for structured music study. But, Leroy made his own opportunities, just as he had fashioned his own violin.
After completing high school, Leroy headed east to study with George Whitefield Chadwick at New England Conservatory. Other influential teachers in the United States and Europe included Ernest Bloch, Hugo Leichtentritt, and Arnold Schoenberg. Robertson received his B.A. and M.A. degrees from Brigham Young University and Ph.D. degree from the University of Southern California. He was chairman of the music department at Brigham Young University from 1925 to 1948 and at the University of Utah from 1948 to 1962.
While chair of the Department of Music at the University of Utah, Robertson worked closely with Maurice Abravanel to make a home for the Utah Symphony on campus, forming a stimulating partnership that laid the foundation for the growth of musical culture within the local and larger community of the state of Utah and the Intermountain West.
---

801-581-6691



Virtual Helpdesk, during open hours



Email



Research Consultation



Tutoring Services



McKay Streaming Course Reserve
---
SPRING 2023 HOURS

Jan. 9 to May 5
Open

Mon. - Thur.
8am - 8pm
Fri.
8am-5pm
Sat.
11am-2pm
Sun.
Closed

Closed

May 5
College of Fine Arts
Graduaion Day!

Summer Hours
May 8th – August 19th

Mon. - Fri
9am - 5pm
Sat.
11am-2pm
Sun.
Closed


Closed on Hollidays

Memorial Day
Mon., May 29
th

Juneteenth
Mon., June 19
th

Independence Day
Tues., July 4
th

Pioneer Day
Mon., July 24
th

Please check back for updates
.
Events - TBA