Leroy Robertson Collection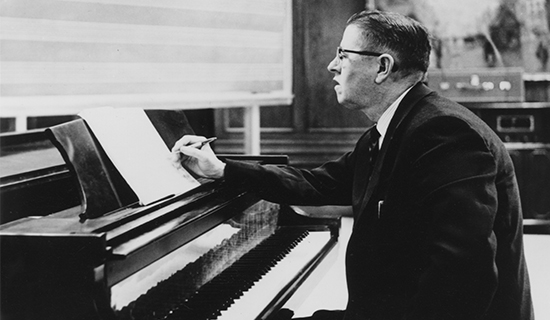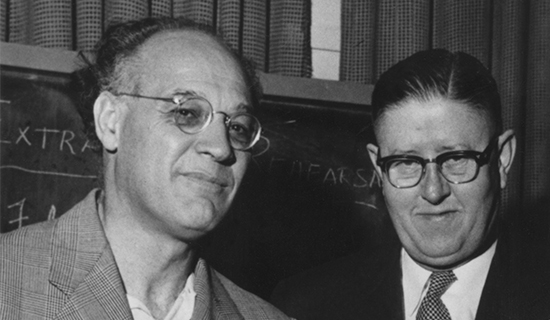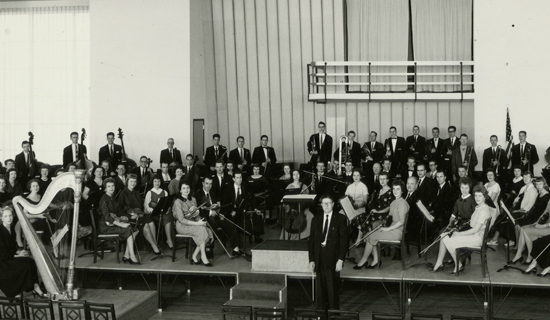 Images of Leroy Robertson are courtesy of the Multimedia Archives at the J. Willard Marriott Library.
---

About the Robertson Rental Collection
The McKay Music Library holds Robertson's published compositions; click here for a list of the Robertson Collection inventory. Robertson wrote in a number of forms for a variety of instrumental and vocal forces, receiving prizes and commendation for Trilogy, Overture in E Minor, Quintet in A Minor for Piano and Strings, and Rhapsody for Piano and Orchestra.
Compositions are available for rent at a nominal fee to cover shipping. To request or for questions call the library director at 801-587-9786.
The U's J. Willard Marriott Library has a collection of Leroy Robertson papers which includes sketches and manuscripts of his compositions. This collection is available for use within the Special Collections Department at the Marriott Library.
---

About Leroy Robertson
The renowned Utah composer and educator Leroy Robertson served as chair of the University's Department of Music from 1948-1962. He ushered in its modern years through the expansion of its music curriculum to meet national accreditation standards, a monumental milestone conferred by the National Association of Schools of Music in 1952.
During his tenure, he made a home for the Utah Symphony on campus, saving it during trying times and establishing a partnership that still exists today, to the educational benefit of U music students. After retiring as chair, he served as Composer-in-Residence from 1962-65 and was named the first U Distinguished Research Professor in 1965-66. Full bio.
---

801-581-6691



Virtual Helpdesk, during open hours



Email



Research Consultation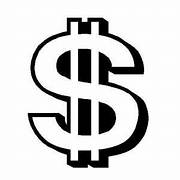 Suggest a Purchase



Tutoring Services



McKay Streaming Course Reserve
---

Summer Hours
May 8th – August 19th

Monday - Friday
9am-5pm
Saturday
11am-2pm
Sunday
Closed
Fall 2023 Hours
August 21st – December 15th
Open
Monday ~ Thursday
8am ~ 8pm
Friday
8am ~ 5pm
Saturday
10am ~ 3pm
Closed
Labor Day ~ Sept. 4th
Fall Break
Closed
Sat. Oct. 8th ~ Tues. Oct. 10th
Open
Wed. Oct. 11th 9am ~ 5pm
Thurs. Oct. 12th 9am ~ 5pm
Fri. Oct. 13th 9am ~ 5pm
Sat. Oct. 14th 11am ~ 2pm
Thanksgiving Break
Open
Wed. Nov. 22nd 8am ~ 5pm
Closed
Thur. Nov. 23rd ~ Sun. Nov. 26th

Please check back for updates.
Events - TBA