Mariska Aldrich Archive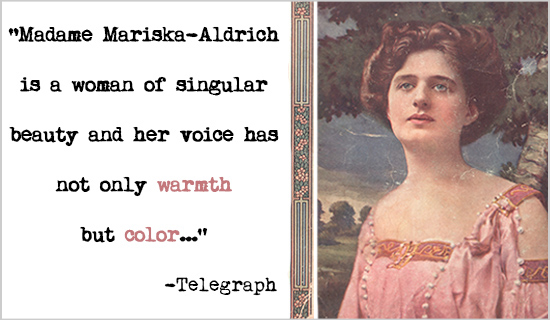 ---
About the Aldrich Archive
Named after the early 20th century American opera star Mariska Aldrich, this archive contains over 25,000 commercial, out-of-print, and historical recordings; operatic scores and sheet music; periodicals and books about music; and historical photos and ephemera. During her careers, Madame Aldrich began collecting operatic memorabilia and audio recordings. Her daughter, Anna Mary Aldrich (Meeka) and her husband, Rick Anderson, continued caring for and adding to her mother's collection, expanding it to its current size. In 1998, after their deaths, the Aldrich Foundation gifted the collection to the University of Utah.
To arrange a visit to the Aldrich Archive, please contact us.
---

About Madame Mariska Aldrich
Mariska Aldrich (1881-1965) was an American dramatic soprano singer and actress, born in Boston, Massachusetts. She made her operatic debut at the Manhattan Opera House in 1908 in Meyerbeer's Les Huguenots. Mariska was the first American-born soprano to become a star with the Metropolitan Opera and the first American to sing all three Brünnhildes of Wagner's Ring in Germany. After years of singing in Europe and the United States, Madame Aldrich settled in Los Angeles, coaching singers and teaching voice.
Of great beauty, with a figure both commanding and handsome, she exhibited a voice that is bound to leave an impression on New York music lovers. It has grace, range, volume of tone and wonderful beauty."
-unknown reviewer
---

801-581-6691



Virtual Helpdesk, during open hours



Email



Research Consultation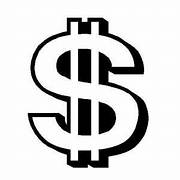 Suggest a Purchase



Tutoring Services



McKay Streaming Course Reserve
---

Summer Hours
May 8th – August 19th

Monday - Friday
9am-5pm
Saturday
11am-2pm
Sunday
Closed
Fall 2023 Hours
August 21st – December 15th
Open
Monday ~ Thursday
8am ~ 8pm
Friday
8am ~ 5pm
Saturday
10am ~ 3pm
Closed
Labor Day ~ Sept. 4th
Fall Break
Closed
Sat. Oct. 8th ~ Tues. Oct. 10th
Open
Wed. Oct. 11th 9am ~ 5pm
Thurs. Oct. 12th 9am ~ 5pm
Fri. Oct. 13th 9am ~ 5pm
Sat. Oct. 14th 11am ~ 2pm
Thanksgiving Break
Open
Wed. Nov. 22nd 8am ~ 5pm
Closed
Thur. Nov. 23rd ~ Sun. Nov. 26th

Please check back for updates.
Events - TBA