Emma Ray Riggs McKay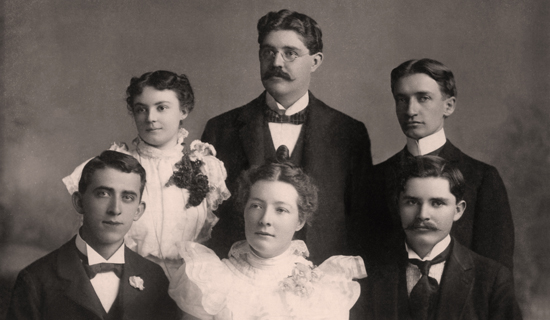 ---
About the McKay Music Library
The Emma Ray Riggs McKay Music Library was established in 2001, thanks to the generosity of the descendants of Emma Ray Riggs McKay and the S.J. and Jessie E. Quinney Foundation. The McKay Music Library serves the students, faculty and community of the University of Utah.
---
About Emma Ray Riggs McKay
Emma Ray Riggs graduated from the University of Utah in 1898, receiving one of six degrees awarded that year. She was among the first to study music at the University, which organized the Department of Music in 1888. A talented pianist with a fine contralto voice, she ensured that all her and her husband's, David O. McKay, children learned to play the piano, and many performed second instruments. Following in their parents' footsteps all seven children, and their spouses, graduated from the University of Utah.
When David O. McKay became President of the Church of Jesus Christ of Latter Day Saints, Ray traveled the world with him, speaking to thousands of people in many countries. She especially inspired young people. She died in 1970 at age 93, ten months after the death of her husband. Her legacy includes 22 grandchildren and numerous great-grandchildren. Full bio
---

801-581-6691



Virtual Helpdesk, during open hours



Email



Research Consultation



Tutoring Services



McKay Streaming Course Reserve
---
FALL 2022 HOURS
Aug 22 to Dec 16
Monday through Thursday
8am - 8pm
Friday
8am-5pm
Saturday
11am-2pm
CLOSEDLabor Day
Monday, Sept 5
FALL BREAK
Closed
Sat. Oct. 9 to Tues. Oct. 11
Open
Wed. Oct. 12: 9am-5pm
Thurs. Oct. 13: 9am-5pm
Fri. Oct. 14: 9am-5pm
Sat. Oct. 15:11am-2pm
THANKSGIVING BREAK
Open
Wed. Nov. 23: 8am-5pm
Closed
Thurs. Nov. 24 to Sun. Nov. 27
Please check back for updates
.
Events - TBA