Utah Marching Band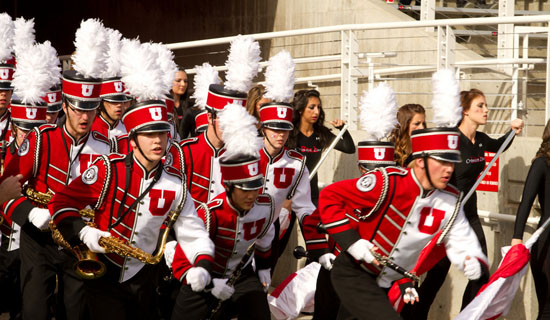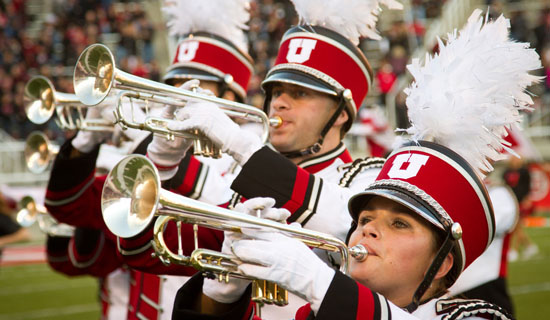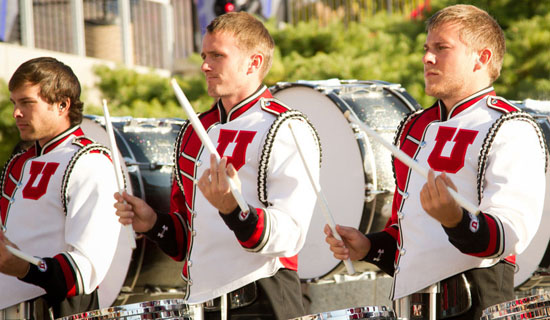 Well-known as the "Pride of Utah", the University of Utah Marching Band, with the Utah Dance Team, performs at all home games, select away games and bowl games throughout the football season, for over 500,000 people annually. Serving as great U of U ambassadors, with students representing virtually every academic discipline, the Utah Marching Band is the School of Music's most visible performance ensemble.
More…
In January 2009, the Utah Marching Band performed at the nationally televised Inauguration of President Barack Obama. Recent bowl appearances include the 2008 BCS Sugar Bowl, the 2004 BCS Fiesta Bowl, as well as bowl trips to San Diego, Las Vegas, San Antonio and San Francisco.
Each pregame and halftime show combines an exciting mix of traditional and contemporary marching drill and music arranged and written specifically for the band. Auditions for the marching band are scheduled for the spring semester and continue throughout the summer. Both music and non-music majors participate and all may qualify for a scholarship.
A typical game day features a short rehearsal; a performance for Utah "tailgaters" and the Ute Walk; pregame and halftime performances; nationally and regionally televised exposure; front row seats to Pac-12 football; and a post-game performance featuring Utah Man.
---

Director
Auditions
Join the Band
Related Websites
Sponsors