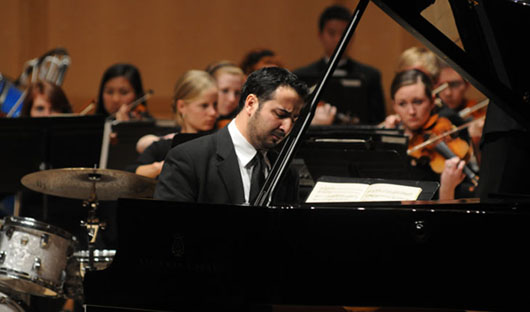 Welcome to the University of Utah SummerArts Piano Festival and Competition 2019! The piano faculty looks forward to meeting you during the competition and evaluation.
The SummerArts Competition offers elementary through college piano students the opportunity to compete for cash awards, scholarships and performance prizes.
The 2019 SummerArts Piano Competition will be held in David Gardner Hall on Thursday, August 8th at the University of Utah.
SummerArts Competition Schedule-TBA
Please arrive 30 minutes before your assigned time. If you are late, you will forfeit your competition time.
Please bring 2 copies of the judging forms for the appropiate division.
Please bring only one original score for the judges.
Winners will be announced at the awards ceremony on Saturday, August 10th.
Judging Forms
---
The award ceremony will be held on Saturday, August 10th at 7:00 PM in Libby Gardner Hall. You must be present to receive your award.
---
Competition Guidelines
All age divisions can compete in solo, concerto or both divisions.
For complete competition rules click here.
Solo
Two solo pieces, one baroque or classical.
Pieces must be of contrasting styles and periods.
Previous first-place winners may enter the same division with new repertoire.
Concerto
One movement of a standard concerto
Open ONLY to competitors who participated in the 2019 Monster Concert and register for the concerto competition by April 29, 2019.
Contestants wishing to perform a concerto that is not part of the University of Utah School of Music holdings will be responsible for the cost of rental/purchasing the music. Click here for a complete list of Concerto Repertoire in the University of Utah School of Music holdings.
Winners may not perform in two consecutive years.
Evaluation Guidelines
Participants can receive faculty evaluation without competing.
One or two pieces, memorization is optional
Evaluation participants are not eligible for prizes.
Young Artist Division Only
Additional competition opportunities for scholarship awards.
Arne Oldberg composition
Information concerning rules and prizes are found here.
Music for the Arne Oldberg composition:
Video Teaching
Information concerning rules and prizes are found here .
Collaborative piano
Information concerning rules and prizes are found here.
Music for the Collaborative Piano Competition
TBA