Wind Ensemble to perform at UMEA Conference
By Ali Para
The University of Utah Wind Ensemble was the only university ensemble selected to perform at this year's Utah Music Education Association Conference in St. George.
Directed by Scott Hagen, the 53-piece ensemble will perform a variety of dynamic wind repertoire on their Feb. 2 concert. The program includes music of David Maslanka who's works the Wind Ensemble has championed. The group premiered and recorded Maslanka's Symphony No. 10 in 2018. This time, the ensemble will play the fifth movement from his A Child's Garden of Dreams. Dancing Fire by Kevin Day exudes life with up-beat rhythms and catchy melodies and is a light-hearted addition to the concert. The ensemble will be joined by guest conductor Loras Schissel who is a leading authority on the music of John Phillip Sousa. He will conduct the Wind Ensemble in Black Horse Troop by Sousa. Also joining the Wind Ensemble is the famed quintet, the Boston Brass. Together they will perform Film by Rick DeJonge.
After their concert, Scott Hagen will lead a conducting clinic entitled "Unlocking your Sound: How Does Everything Work? Strategies to Create a Great Sounding Ensemble." In this clinic, the concepts of blend, balance, intonation, and ensemble seating will be addressed.
To celebrate this tremendous honor, the Wind Ensemble is having a special send-off concert in Libby Gardner Concert Hall on Jan. 28 at 7:30 p.m. If you are in the St. George area, you can hear the Wind Ensemble's UMEA performance and attend the clinic on Feb. 2nd, 2019 at 9:40 a.m. in the Cox Performing Arts Center at Dixie State University.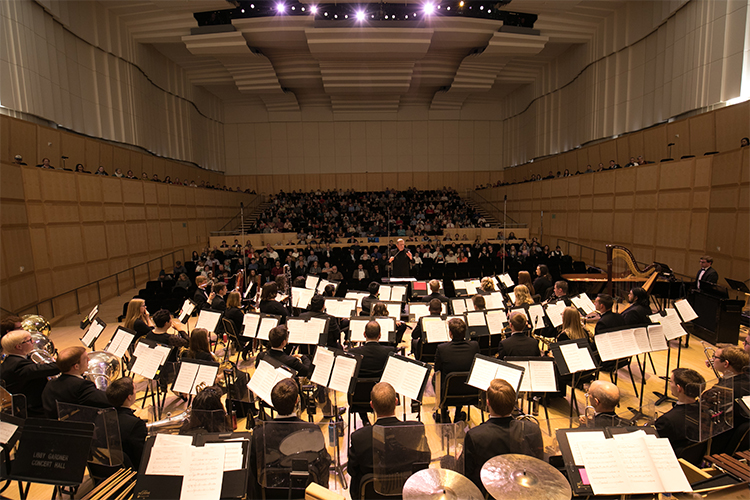 ABOUT THE SCHOOL OF MUSIC
The University of Utah School of Music offers a comprehensive program of music study on both the undergraduate and graduate levels. The School of Music educates professionally-oriented students across the musical spectrum through rigorous musical and academic experiences; serves the art of music through performance, composition, research and publication; and functions as the state's center for intellectual, educational, and cultural musical activities. It has been an accredited member of the National Association of Schools of Music since 1952.
ABOUT THE COLLEGE OF FINE ARTS
With its vision of advancing the practice and appreciation of the arts through leadership in teaching and research, the mission of College of Fine Arts at the University of Utah is to provide students with a dynamic, contemporary learning environment that inspires intellectual, creative and professional excellence and innovation in the arts while honoring tradition. The College is home to the School of Music, the Departments of Art & Art History, Ballet, Film & Media Arts, Modern Dance and Theatre.