Washington Elementary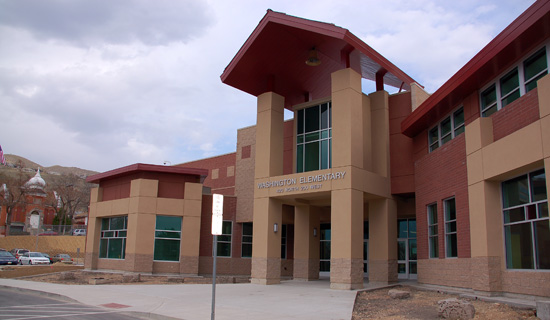 "The Piano Outreach Program gives our students a first glance at seeing themselves as belonging on a university campus and bound for higher education." — Rebecca Pittam, Principal
Thanks to generous support from the Sorenson Legacy Foundation, the Washington Piano Outreach site was started in 2011 and continues to thrive every day. Furthermore, we are grateful to the McCarthey Family Foundation for awarding one of our bright and dedicated instructors the McCarthey Family Foundation Teaching Assistantship. The kind support of these two families has allowed for the expansion of the Washington Piano Lab, increasing the number of children taught last year from 40 to nearly 65 children this year, and with hopes to grow even more by January 2015!
Students apply at the start of the school year to participate and are selected based on age, (preference is given to older students), behavior, school attendance history, motivation level and admittance of siblings in the program. At Washington Elementary, more than 40% of students' families live below the federal poverty level, 55% of student body comes from ethnically or racially diverse backgrounds, and 29% of student body are English language learners. Even in our piano lab, %30 of our students commute from the Road Home Homeless Shelter.
At the end of the semester, program participants perform their recital pieces for their families and the entire school, as well as being invited to the University of Utah to play in a special Piano Outreach Christmas Concert in Thompson Chamber Hall. In May, outstanding students from each school are invited to participate in the Piano Outreach Ensemble in the Piano Area Monster Concert.
Thank you to our wonderful supporters, The Sorenson Legacy Foundation and The McCarthey Family Foundation.
---
Social Media
Graduate Instructors
Sarah Dawn Messina
Masters Candidate, Piano Performance
The McCarthey Family Foundation TA

Nate Wambolt
Masters Candidate, Piano Performance