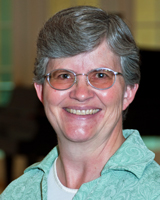 Teresa Clawson
Associate Instructor, organ
MMUS University of Utah
BMUS University of Utah
---
Biography
Teresa Clawson teaches group organ classes and private organ lessons for the Preparatory Division.
Teresa believes in preparing her students to perform and to accompany local congregations all over the valley.
Teresa Clawson is an active member of the American Guild of Organists and is AAGO certified. She has accompanied University of Utah performing groups and community choral and instrumental organizations in a variety of venues. From the time she was a teenager, she has been the primary organist for various church congregations along the Wasatch Front and currently is serving as an organist in the Salt Lake Temple.
Teaching Philosophy
"I have a great love and respect for music, which is a unique vehicle for self-expression and serves as a pathway to the soul. Making music with other people is a cooperative venture that brings a unity of purpose unparalleled by anything else I have ever experienced. My goal as a teacher is to enable the student to have the knowledge and skills necessary to tap into music's great power and use it to bless the lives of others as well as themselves."
Courses Taught
Organ Group Classes
Organ - Private Lessons