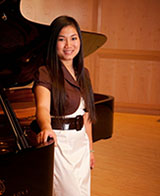 Hao Doan
Assistant Director, Preparatory Division
Associate Instructor, Piano
MM University of Utah
BM University of Utah
---
Biography
Hao Doan teaches private piano lessons and musicianship classes in the Preparatory Division.
Hao grew up playing the piano, Vietnamese zither, and violin. She started playing piano at age seven in the University of Utah's Preparatory Division. In high school, Hao became heavily involved in the arts, including playing both piano and violin in orchestra and jazz band.
An active performer, Hao has participated in various piano festivals and competitions. While a student at the University of Utah, she played violin with the University Campus Symphony Orchestra and the Utah Philharmonia. Hao also had the opportunity to perform piano with the University of Utah Wind Ensemble and the Utah Wind Symphony.
Hao studied with Janet Mann, Heather Conner and currently studies with Jie Lu.
Teaching Philosophy
"Each student has the capability to succeed in their piano training. As their teacher, I will provide the skills necessary to achieve a high level of music understanding. It is the students' responsibility to recognize and use that knowledge.
My job is to prepare students with the tools they need to meet their musical goals. If students are willing and prepared to learn, their music education will benefit them throughout their lives."
Courses Taught
Piano - Private Lessons
Musicianship Classes