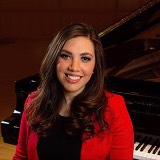 Desireé González-Miller
Director of Piano Outreach
Associate Instructor, Piano
DMA University of Utah
MM Piano Performance, Brigham Young University
BM Piano Performance, Brigham Young University
---
Biography
Born in Mexico, Dr. Desireé González-Miller, NCTM, enjoys a musical career that has brought her to different concert venues and musical institutions across Mexico, the United States, and Europe. She held the position of Visiting Assistant Professor of Piano at Brigham Young University (BYU) during the 2019-2020 academic year. During this time she served as the pianist for the Sundance Trio, performing in chamber recitals across New York, Pennsylvania, Ohio, Nevada, and Utah.

Desireé is an award-winning pianist and teacher. She has won top prizes in the Parnassós National Piano Competition, the American Protegé International Piano Competition (including a performance in Carnegie Hall), and the Young Virtuosos UANL and Summer Arts Piano Competitions. She received the Reid Nibley Scholar award twice while studying at BYU. Most recently, she was given the 2015 Janet Mann Teaching Excellence Award at the University of Utah, and the 2014 Student Teacher of the Year Award by the Utah Music Teachers' Association.

She has performed in master classes with internationally renowned concert pianists and pedagogues such as Ignat Solzhenitsyn, Mirian Conti, Dmitry Rachmanov, Nancy Weems, Arthur Greene, Logan Skelton, Nelita True, Arkady Aronov, Yaron Kohlberg, Leonel Morales, Anna Bogolyubova, Alexander Pashkov, and Jorge Federico Osorio, among others.

Her academic research and pedagogical interests have led to a publication in the American Music Teacher magazine, and numerous presentations at local, state, national, and international piano conferences. She has presented at the International Society for Music Education World Conference in Glasgow, Scotland, the Frances Clark Center for Keyboard Pedagogy National Conference in Chicago, IL, the Music Teachers National Association National Conferences, and at the National Symposium of Piano Pedagogy at the University of Michigan, Cincinnati College- Conservatory, Southern Methodist University, the University of South Carolina, and the University of Texas at Austin. Desireé's artistic and educational activities have been further supported by grants and scholarships by the University of Utah College of Fine Arts, Brigham Young University, Utah Music Teachers Association, the Autonomous University of Nuevo León, and the Arts Council of Monterrey, México. The Office of Research and Creative Activities at BYU sponsored her to research the piano repertoire of the Mexican composer Manuel M. Ponce.

Desireé holds Bachelor and Master degrees in Piano Performance from Brigham Young University where she studied with Dr. Jeffrey Shumway and Dr. Scott Holden. Dr. González-Miller graduated from the University of Utah with a Doctorate of Musical Arts in Piano Performance and a related field in Musicology under the tutelage of Dr. Vedrana Subotic. Prior to Desireé's collegiate education in the US, she studied with Alicia Monfort, and Natalia Tibets.
Teaching Philosophy
"As a piano teacher, I would like to educate students to become independent and well-rounded. I hope my students will be able to appreciate and treasure musical experiences through their understanding of musical aesthetics and the development of an enhanced sense of listening.
My teaching approach is centered on the student's learning modality, tendencies, and personalities. This way, I can work with their strengths and develop their weaknesses into powerful skills. I hope to provide my students with different methods of practicing to learn new pieces, and to solve technical problems. It is also crucial for me to expose the student to music theory, ear-training, ensemble playing, and music history in order to expand their overall musical proficiency.
Developing a healthy technique goes hand in hand with developing artistic and expressive performance skills. One cannot have freedom to express the composers' intentions and even our own feelings until a solid technical foundation has been acquired. Fundamental technique exercises such as scales, arpeggios, chords, and cadences will be the perfect medium to teach students about proper body alignment, correct positioning of hands and arms in relation to the piano, awareness of muscle tension and how to release this tension during practicing and performance. In addition to that, technical exercises and etudes are excellent to teach students about other artistic elements of music such as dynamics, articulation, shaping, voicing, phrasing, and tone quality. As the student's healthy technique and artistry evolve, he or she will be able to perceive all these elements when they approach a difficult repertoire piece. Students will be introduced to technique from their very first lesson and will be required to start their daily practice sessions with 15 minutes of different technical exercises and etudes according to their age and level.
I consider the use of technology to be of crucial importance in the student's development. When teaching, the words of John Dewey, an American philosopher, psychologist, and educational reformer, resonate in my mind: "If we teach today as we taught yesterday, we rob our children of tomorrow." As a teacher, I constantly attend some of the best piano pedagogy conferences around the country and the world to be up to date on the latest pedagogical trends and research. Technology can also be of great use for students of all ages when implemented along the flipped classroom concept. This instructional strategy reverses the traditional teaching setting and has students gain their first exposure to new material outside of class. This material is usually given through lecture, demonstration, and tutorial on-line videos. Class time is then used to help the student assimilate and reinforce that knowledge through discussion and the execution of such learned concepts, to provide further explanation, or to present possible solutions or answers to the student's questions. I enjoy implementing technology in the form of software, applications, and audio and video recordings in my teaching. Technology has not only been of great aid to engage my students in active learning, but has also shown to be an excellent tool to accelerate and improve their learning curve.
My main goal as a teacher is to make the journey of learning and studying piano fun and fulfilling. All the excitement and sense of fulfillment comes from accomplishing long-term goals through hard, diligent work. The progress made by the student will be directly related to how much time and effort he or she dedicates outside of the lesson. Practicing is an essential process in which the student will discover many things about music, and even about themselves.
I hope my piano lessons will give my students new perspectives. Together we can learn valuable life skills such as discipline, dedication, commitment, determination, patience, and confidence."
Courses Taught
Piano - Private Lessons
Beginning Piano Classes