Program
Up and Away (Story of a Balloon)
Sundance Trio
Geralyn Giovannetti, oboe
Christian Smith, bassoon
Jed Moss, piano


All is Well
Jared Oaks, piano



"Sull'aria… che soave zeffiretto" from Le nozze di Figaro

Leslie Mauldin and daughter Micaela Gage Hulsey, sopranos
Sean Rogers, piano


Consolation No. 3 in D-flat Major, S.171a
Vedrana Subotic, piano


Amazing Grace
Christian Smith, bassoon
Alex Woods, violin
Aubrey Woods, violin


Deep Blue
Christina Castellanos, flute
Jed Moss, piano


Vocalise, op. 34
Allison DeBona, Ballet West First Soloist
Will Hagen, violin
Leslie Mauldin, soprano
John Mauldin, tenor
Susan Facer, soprano

Selections from Violin Sonata in B minor, P110
JD Hunter, violin
Jed Moss, piano
Danny Boy
John Mauldin, tenor
Jed Moss, piano


Fantasie No. 1 in A Major – Vivace, Allegro

Christin Schillinger, bassoon


Sonata for Two Violins No. 5, B-flat Major
Aria con Variatione

Will Hagen, violin
Andrea Ashdown, violin


"Ich finde dich in alle diesen Dingen"
Robert Breault, tenor
Jeffrey Price, piano


Ave Maria (pas de deux)
Choreography: Tom Mattingly
Arolyn Williams, Ballet West Principal Artist
Michael Bearden, former Ballet West Principal Artist
Lynnette Thredgold, violin
Jed Moss, piano
Petalbump Woodland Theme
Jed Moss, piano
Ashokan Farewell
Will Hagen, solo violin
Leslie Mauldin, solo guitar
Andrea Ashdown, solo viola
Christina Castellanos, solo flute
Lynn Rosen, violin I
Ensemble*
Alyssa Morris
(b. 1984)


William Clayton, arr. Jared Oaks
(1814-1879, b. 1982)
Wolfgang Amadeus Mozart
(1756-1791)

Franz Liszt
(1811-1886)

John Newton
(1725-1807)


Ian Clarke
(b. 1964)


Sergei Rachmaninoff
(1873-1943)






Ottorino Resphigi
(1879-1936)
Traditional Irish Melody, Lyrics by
Frederic Weatherly (1848-1929)

Georg Philipp Telemann
(1681-1767)


Joseph Bologne, Chevalier de Saint-Georges
(1745-1799)


Jeffrey Price
(b. 1955)



Charles Gounod, arr. Lynnette Thredgold
(1818-1893)

Jed Moss and Graham Russell


Jay Ungar, arr. Leslie Mauldin
(b. 1946, b. 1962)
*Ensemble members
(1 Vocalise, 2 Ashokan Farewell):
Conductor:
Robert Baldwin1
Violin:
Yuki MacQueen 1, 2
Alex Martin 2
Lynn Rosen 1
Susanne Rothaar 1
Alex Woods 2
Aubrey Woods 2
Viola:
Candi Wagner 1, 2
Joel Gibbs 1, 2
Andrea Ashdown 1, 2

Viola:
Candi Wagner 1, 2
Joel Gibbs 1, 2
Andrea Ashdown 1, 2
Cello:
John Eckstein 1, 2
Cassie Olson 1, 2
Flute:
Jane Wadsworth 1
Christina Castellanos 1, 2
Rebecca Chapman 1
Clarinet:
Henry Caceres 1, 2
Kattiusca Marín 1, 2

Bassoon:
Christin Schillinger 1, 2
Christian Smith 1, 2
Horn:
Chris Castellanos 1, 2
Edmund Rollett 1
Bass:
Hillary Fuller 1
Vocal:
Lauren Bandman 2
Robert Breault 2
John Mauldin 2
Melodie Taylor-Mauldin 2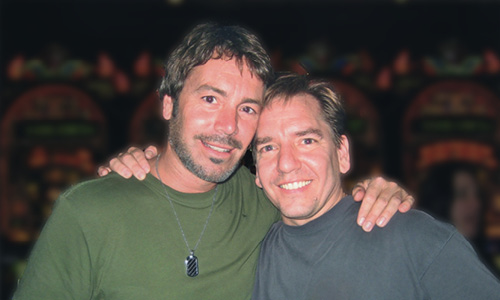 Jed Moss (left) and his spouse Daniel Bentley (right).

Special Thanks
Daniel Bentley, Jed's spouse, extends his deepest gratitude to the extensive community of family, friends, and musical collaborators who reached out with memories, assistance, and resources after Jed's death last summer. While not individually listed here, your love, generosity, and kindness helped make his loss easier to bear.
He especially thanks:
Darcy Bentley & Chris Demiris, Christina Castellanos, Geralyn Giovannetti, Will Hagen, Leslie Mauldin & Avenue B, Brett Parkinson, Lynn Rosen, Candi Wagner, Cara Stone
Thank You
Our sincere thanks to the following family, friends, colleagues, and supporters of Jed for their gifts to the Jed Moss Collaborative Piano Scholarship.
Champions
Gifts above $500

Daniel Bentley
Chris Demiris and Darcy Bentley
Paul Dorgan
Thor Gjelsteen and Millah Nikkel
Loree and Scott Hagen
Kathie and Chuck Horman
David Power
Sinfonia Salt Lake
Vedrana Subotic
Ardis Westwood
All other gifts

Anonymous
Andrea Ashdown and Will Hagen
Avenue B
Kayo and Mark Baker
Rob and Maria Baldwin
Brant and Anne F. Bayless
Jeffrey Bentley and
Ana Gonzales de Bentley
Deanna Biles
Howard Bornstein
and Judy Russell
Hope Bowden
Barlow Bradford
Michael Braun
Julie Brown
Jacob Bruner
Kristine Campbell
Karen Cardon
Jamee Cart
Miguel Chuaqui and Lisa Chaufty
Anne Cullimore Decker
and Ashby Decker
Peggy Di Sera
Christine Dolcimascolo
Jenifer Ewoniuk
Steven Eyre
Amy French
Stacy Garrop
Lee Gerstein and Shari Levitin
April and Dale Goddard
Holly and Ed Gornick
Gayle Gruner
H. Larry Leisure Investments
Michelle and Bruce Hansen
Seretta Hart
Kelly Henley
Leslie Henrie
Micaela Gage Hulsey
Mark and Janet Jackson
Beverly and Douglas Jensen
Pam Jones

Charles and Heather Joseph
Aimee Kendell
Alicia Kim
Andrea and Chris Larsen
Katie and Preston Lees
Nadine and Adam Luke
Fumiko MacPherson
Lauren Maul
Leslie Mauldin
Janna Mauldin Heiner
Orval and Muriel Mauldin
Katie McDaniel
Peggy McDonough and Patrick JanEileen McGartland
Garrett Medlock
Nancy and Russell Merrill
Nathan Mueller
Daniel OBannon
Cassie Olson
Opera Appreciation Club
Jamie Baer Peterson
and Mark Peterson
Nicole Pinnell
Steve Roens
Debbie Rohrich-Tyler
and Farrell Tyler
Morris Rosenzweig
and Mary Jane Ciccarello
Margaret Rorke
David Sandweiss
Aubrey Shirts
Chris and Patricia Smith
Debbie and Bob Stevens
Michael Stewart
Frederick Terry and
Laura Lee Everett
KayLynn and Garth Wakefield
Jennifer and Arnold West
Cora West
David and Eliana White
Marcie Wray
Julie Wright-Costa and John Costa
Please accept our apology for any errors or omissions. Notify us of corrections at andrea.ashdown@utah.edu.
Performer Bios
Andrea Ashdown received her Bachelor of Music with Academic Honors from the Cleveland Institute of Music, and her Master of Music from the Juilliard School. She has extensive experience as an orchestral and chamber musician, performing at venues such as Severance Hall, Alice Tully Hall, David Geffen Hall, Carnegie Hall, and Suntory Hall in Tokyo, Japan. Her principal teachers include David Chan, Li Lin, and Stephen Rose.
Jared Oaks is the Music Director of Ballet West, Co-founder of the Composer Discovery Initiative, and a Fellow of the American-Scandinavian Foundation.
Christian Smith is Professor of Bassoon at the Brigham Young University School of Music. Beyond his responsibilities with the bassoon studio, he conducts the Symphony Orchestra, teaches instrumental conducting, is an active orchestral musician, and regularly performs with Orpheus Winds, the resident faculty wind quintet. Currently he is principal bassoonist with the Orchestra at Temple Square in Salt Lake City. In the past he has performed with the Utah Symphony, Toledo Symphony, Ann Arbor Symphony, Michigan Chamber Players, and the Sundance Trio. He and his wife, Patricia, are the parents of 9 children.
Sundance Trio
Christian Smith, bassoon; Geralyn Giovannetti, oboe; Jed Moss, piano
Sundance Trio was formed in 2005 to explore and perform trios written for oboe, bassoon and piano. Members included oboist Geralyn Giovannetti, bassoonist Christian Smith, and the late pianist Jed Moss. Together the trio has performed throughout the United States, Canada and Europe at colleges, chamber music series and at conferences. In 2014 the BYU School of Music commissioned Utah composer, Alyssa Morris to write for the trio. Her composition, Up and Away (Story of a Balloon) was premiered in New York City at NYU as part of the IDRS Conference. Recent tours took the Sundance Trio to Ireland, Ontario, and Quebec as well as many locations in California, Colorado, Arizona, Georgia, Idaho and Utah. Their third CD recording, "Up and Away" was released in 2017 on the Tantara label. Of this CD, Fanfare Magazine wrote, "The playing of the Sundance Trio is exemplary to the point that I could not imagine better performances of these works, each of which is a true gem of woodwind chamber music. I cannot conceive of anyone hearing this disc being anything less than thrilled with it."
All Performers
Andrea Ashdown, violin & viola
Robert Baldwin, conductor & viola
Lauren Bandman, voice
Michael Bearden,
former Ballet West Principal Artist
Robert Breault, tenor
Allison DeBona, Ballet West First Soloist
Henry Caceres, clarinet
Chris Castellanos, horn
Christina Castellanos, flute
Rebecca Chapman, flute
John Eckstein, cello
Susan Facer, soprano
Hillary Fuller, bass
Joel Gibbs, viola
Geralyn Giovannetti, oboe
Will Hagen, violin
JD Hunter, violin
Micaela Gage Hulsey, soprano
Yuki MacQueen, violin
Kattiusca Marín, clarinet
Alex Martin, violin
John Mauldin, tenor
Leslie Mauldin, soprano
Jed Moss, piano
Jared Oaks, piano
Cassie Olson, cello
Jeffrey Price, piano



Edmund Rollett, horn
Sean Rogers, piano
Lynn Rosen, violin
Susanne Rothaar, violin
Christin Schillinger, bassoon
Christian Smith, bassoon
Vedrana Subotic, piano
Melodie Taylor-Mauldin, soprano
Lynnette Thredgold, violin
Jane Wadsworth, flute
Candi Wagner, viola
Arolyn Williams, Ballet West Principal Artist
Alex Woods, violin
Aubrey Woods, violin
---
Concert Committee
Artistic Team:
Christina Castellanos
Leslie Mauldin
Rob Baldwin
Technical Team:
Chris Castellanos
Chris Demiris
University of Utah:
Andrea Ashdown
Michele Ballantyne
Lisa Chaufty
Miguel Chuaqui
Mike Cottle
Emeri Fetzer
April Goddard
Michaela Funtanilla