June 14-18, 2021
MASTERCLASSES GUEST ARTISTS
Free and open to public.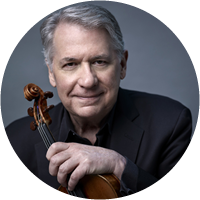 VIRTUAL MASTERCLASS
JUNE 14 | 1:30 PM
Philip Setzer

Violinist Philip Setzer, a founding member of the Emerson String Quartet, was born in Cleveland, Ohio, and began studying violin at the age of five with his parents, both former violinists in the Cleveland Orchestra. He continued his studies with Josef Gingold and Rafael Druian, and later at the Juilliard School with Oscar Shumsky. In 1967, Mr. Setzer won second prize at the Marjorie Merriweather Post Competition in Washington, DC, and in 1976 received a Bronze Medal at the Queen Elisabeth International Competition in Brussels. Read more.
Performers:
1:30 PM Cameron Jeppson – Prokofiev Concerto No. 2, First movement
2:10 PM Karen Ferry – Bach d minor Sarabande/Gigue
2:50 PM Natalie Amano – Prokofiev Solo Sonata, First movement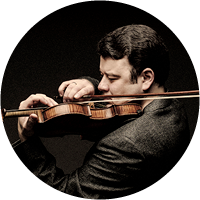 VIRTUAL MASTERCLASS
June 15 | 1:30
Vadim Gluzman
Universally recognized among today's top performing artists, Vadim Gluzman brings to life the glorious violinistic tradition of the 19th and 20th centuries. Gluzman's wide repertoire embraces new music and his performances are heard around the world through live broadcasts and a striking catalogue of award-winning recordings exclusively for the BIS label. Read more.
Performers:
1:30 PM Hanna Packard – Sibelius Concerto, First movement
2:00 PM Maddy Vanderwall – Bach g minor Adagio
2:30 PM Casey Reed – Bach g minor Fugue
3:00 PM Olivia Gill – Zigeunerweisen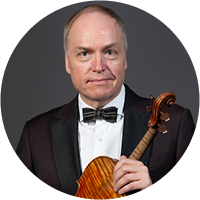 VIRTUAL MASTERCLASS
JUNE 16 | 1:30 PM
DAVID SALNESS
Violinist David Salness attained international recognition as a performing artist and teacher. He appeared in more than 25 countries and in 48 out of the 50 United States in such renowned venues as Carnegie Hall, Lincoln Center, Orchestra Hall in Chicago, Salle Pleyel, and London's Wigmore Hall. His performances are broadcast on National Public Radio, Radio France, Bavarian Radio, and the British and Canadian Broadcast Corporations. His recordings are found on the RCA, Telarc, and Centaur labels, amongst others. Read more.
Performers:
1:30 PM Mia Raddatz – Bruch Concerto, First movement
2:00 PM Tara Foster – Bach C major Largo
2:30 PM Ethan Atzet – Bach g minor Adagio
3:00 PM Addison Andrus – Bach d minor Corrente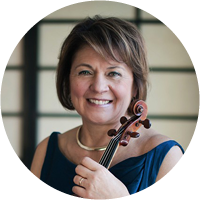 VIRTUAL MASTERCLASS
June 17 | 1:30 PM
Renata Knific
Professor Emeritus of Western Michigan University, where she taught violin and directed the string program for over 30 years. She has also taught at the Interlochen Arts Academy, Encore School for Strings, Cleveland Institute of Music, China Conservatory, Beijing, and the Lancut Festival in Poland. Knific has released critically acclaimed solo CD's, including, at the composer's request, the violins sonatas of William Bolcom, which was named CD of The Month by the BBC. Read more.
Performers:
1:30 PM Nola Martin-Audette – Mozart G Major Concerto, First movement
2:00 PM Melodee Valentine – Wieniawski Concerto No. 2, First movement
2:30 PM Emma Lacanienta – Mozart Concerto in D (Cadenza)
3 PM Kathryn Jones – Rep TBA
This event is supported by Thomas D. Dee II Foundation