Douglas Wolf
Professor Emeritus, Percussion
MM University of Michigan
BM Bowling Green State University
---
Biography
Douglas J. Wolf holds the title of Professor Emeritus at the University of Utah. He is well known for his distinguished 42-year career as a master teacher and performer of percussion. His performing associations include the Utah Symphony Orchestra, Ballet West Orchestra, Utah Opera Company, Pioneer Theater Company, and Mormon Tabernacle Choir. He has been an artist endorsee for Grover Pro Percussion, Sabian Cymbals, Encore Mallets, and Mike Balter Mallets.
Prof. Wolf began his university teaching career in 1976 at Weber State University, and started teaching at the University of Utah in 1979. Under his direction, the University of Utah Percussion Ensemble received international acclaim by winning the Percussive Arts Society's Percussion Ensemble Contest on two occasions, and for its PBS television special, three compact disc recordings, and numerous appearances at major music conventions throughout the United States. Prof. Wolf received the Special Recognition Award from the Utah Music Educators Association and the Outstanding Service to Education Award from the Utah State Board of Education.
Prof. Wolf served eight years as President of the Utah Chapter of the Percussive Arts Society and eight more years on the International Board of Directors for PAS. He also served 12 years as the Founding Chair of the PAS Percussion Ensemble Committee, and in 1998 received the Percussive Arts Society's Outstanding Service Award. In 2014 Prof. Wolf received the Lifetime Achievement Award from the Utah Chapter of the Percussive Arts Society.
Prof. Wolf has appeared in concert with Ray Charles, Gladys Knight, James Taylor, Kenny G, Dionne Warwick, Mel Torme, Randy Travis, Trisha Yearwood, Jewel, Elvis Costello, Lou Rawls, Crystal Gayle, Mandy Patinkin, Marie Osmond, Al Jarreau, Ben Folds, Linda Ronstadt, Doc Severinsen, Eddie Daniels, Arturo Sandoval, Kathy Mattea, Michael Martin Murphey, Debbie Reynolds, Jose Feliciano, Chuck Mangione, Faith Prince, Nanci Griffith, Linda Eder, Don McClean, Lorna Luft, Bobby Vinton, Connie Francis, Roger Williams, Shirley Jones, Bill Conti, Carol Channing, Marvin Hamlisch, Shari Lewis, Audra McDonald, Elaine Page, Shawn King, The Smothers Brothers, Ben E. King, Bob McGrath, Sandi Patti, Skitch Henderson, Peter Schikele, Micky Dolenz, Mark O'Connor, Deborah Hensen-Conant, Douglas Spotted Eagle, Kurt Bestor, Sam Cardon, Monica Mancini, Chuck Findley, Bob Anderson, Evelyn Glennie, Natalie MacMaster, Eileen Ivers, Larry Gatlin and the Gatlin Brothers, Blood, Sweat and Tears, Kansas, The Moody Blues, Mannheim Steamroller, The Kingston Trio, New York Voices, Wayfaring Stranger, Canadian Brass, Dallas Brass, Nexus, Mariachi Cobre, Rockapella, The King's Singers, Riders in the Sky, Flash Cadillac, Five by Design, Cherish the Ladies, Time for Three, Pink Martini, and Broadway stars Idina Menzel, Michael Cavanaugh, Stephanie Block, Julia Murney, Lisa Vroman, Christiana Noll, Debbie Gravitte, and Jodi Benson. He also played for the National Touring Companies of Hello Dolly, A Chorus Line, West Side Story, Grease, The Pirates of Penzance, The Drowsy Chaperone, and his own Brough/Wolf Duo.
Prof. Wolf's studio recording credits are numerous. He recorded film scores and trailers for the following motion pictures: Annabell's Wish, Antz, Babe-Pig in the City, Boogey Man, Brothers Grimm, The Contender, Crossfire Trail, The Diver, Eight Legged Freaks, Elmo in Grouchland, The Escape, Final Fantasy, The Foreigner, Glimpse of Hell, He-Man, Home Alone 3, Homicide, House of Frankenstein, How to Kill Your Neighbor's Dog, I Dreamed of Africa, Iron Giant, Jacob the Liar, K-19, Leap of Faith, The Librarian, Light it Up, Living Legends, Lost in Space, Lost World, Man in the Iron Mask, Max Keebles Big Move, Minority Report, Mulan, Muppets from Space, Music of the Heart, Pavillion of Women, Peace Makers, Pentagon Papers, People I Know, Perfect Storm, Prague, The Price of Freedom, RFK, Saint Ange, Sinbad, Sins of the Father, Spider-Man, Tenth Kingdom, The Tailor of Panama, Thin Air, Transyl Mania, Two for Texas, U571, Under Siege 2, The Village, We The People / Reflections Of Earth, Windtalkers, Peter Kater and R. Carlos Nakai's Zion Park soundtrack, and Kurt Bestor's Sedona IMAX film score.
Prof. Wolf's television credits include music for the Hercules and Xena series, FOX Network's Boston Public, Discovery Channel's Raising the Mammoth, Inside the Space Station and Pompeii features, National Geographic's Lewis and Clark feature, ESPN's Tennis theme, Wide World of Sports theme, College Football Songs and Bass Master's music, ABC's Monday Night Football theme and 1997 Christmas Special, NBC's Today Show theme, Sunday Movie theme and Nightly News theme, the Sci-Fi channel movie, The Triangle, CNBC's Hardball theme, Turner Cup Ice Skating theme, US Airways theme, the World Cup Soccer theme, Kenny Loggins' Vail 99 World Cup Skiing music, and the 2002 Winter Olympic Games theme "Call of the Champions" with John Williams.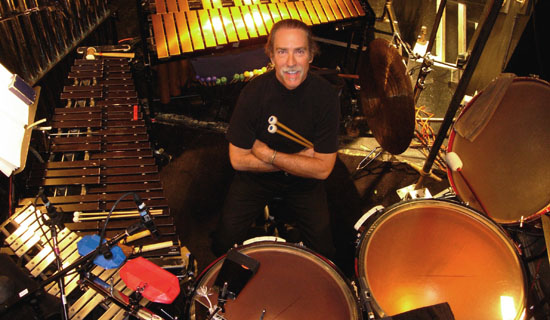 Doug Wolf playing percussion with the National Touring Company of The Drowsy Chaperone.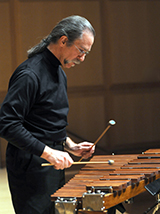 Watch Professor Wolf's xylophone solo on youtube here.
Courses Taught
Percussion - Private Lessons
Percussion Instrument Study
Percussion Ensemble
Percussion Pedagogy