Donn Schaefer
Professor, Trombone
Brass Area Head
Acting Jazz Area Head
DMA University of Iowa
MM University of Massachusetts, Amherst
BS Bemidji State University, Minnesota
Email
Office: DGH 154
Faculty Page
---
Biography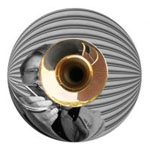 Donn Schaefer is originally from Vancouver, Canada. Before joining the music faculty at the University of Utah, Schaefer taught low brass and jazz studies at the University of Mississippi. Schaefer holds degrees from Bemidji State University; the University of Massachusetts, Amherst; and the University of Iowa.
While still a high school student, Schaefer toured with several bands of the Canadian Military, including the Royal Air Command Band. Other performing credits include the Utah Symphony, Lake Placid Sinfonietta (a chamber orchestra in NY), San Francisco Ballet, Memphis Symphony Orchestra, Cedar Rapids Symphony Orchestra, Tennessee Philharmonic, along with freelance playing and recording in the Nashville/Memphis areas. Schaefer held an associate position with the Civic Orchestra of Chicago in 1997-1998.
In May of 2008 Schaefer hosted the International Trombone Festival. This event saw many of today's brightest trombone stars perform at the University of Utah School of Music. For the past several years Donn Schaefer has toured and performed with the Cramer Trombone Choir, an international group of college trombone-professors. Recent performances include Russia, Sweden, Finland, Texas, New York, and New Orleans. Schaefer has appeared as an artist and adjudicator at the Greeley Jazz Festival, the largest jazz festival in the United States. In 2007, Schaefer was a featured soloist at the annual "76+4 Trombones" event in Las Vegas, along with Jim Pugh and Eijiro Nakagawa. Schaefer has performed and presented clinics at the Eastern Trombone Workshop and International Trombone Festivals.
Courses Taught
Trombone & Euphonium - Private Lessons
Chamber Music
Brass Pedagogy
Doctoral Instrumental Pedagogy
Doctoral Instrumental Literature
Jazz Improvisation I
Brass Instrument Study II
---
Research
Broadway Tour of "Mean Girls." Eccles Theater. 10 services. 2021.
Soundtrack Recordings for "Honor of Kings" a Chinese video game that draws over 100 million daily players. 2020-2021.
ESPN Fight Songs Recorded for International Broadcast. 2021
Utah Symphony Orchestra. "Forever Mighty" Tour. Summer 2021.
Utah Symphony Orchestra. Numerous performances as substitute Bass and Tenor Trombonist 2011-present.
Disney's "Aladdin" National Broadway Tour. 22 performances. 2019.
Hans Zimmer World Tour. Salt Lake City Performances 2017 and 2019.
Big 12 Trombone Conference Presentation: "Musically Expressive Solo Playing." 2019
Marie Osmond. 2021.
Felix Cavaliere and the Rascals Tour. 2019 and 2021.
---
Service
Director of Jazz Studies Search Committee Chair. 2019 (cancelled mid search) 2021.
Clarinet Search Committee Chair. 2019 (cancelled mid search) and Member, 2021.
Interim Director of Jazz Studies. 2018-present.
Brass Area Chair. 2006-present.
College of Fine Arts Budget Advisory Committee. 2017-present.
RPT Chair, School of Music. 2015-2017.
International Trombone Association. Competitions Committee Chair. 2012-2017.
Founder of MountainWest Trombone Workshop. 2017, 2018 and 2019.