Schedule & Tuition
---
Liability Waiver
Each student participating in the Preparatory Division must sign a liability waiver at the beginning of each academic year. Download the waiver here, sign and mail to the address below.
Tuition & Fees
Payment of Preparatory Division tuition and fees can be made online or by mail.
Preparatory Division1375 Presidents CircleSalt Lake City, Utah 84112
Please note:
Preparatory Division programs are full-year, but billed on a semester basis.
Registration fee is non-refundable.
Tuition payments made after the 15-day grace period will be charged a late fee.
Upon registration, you agree to observe all the rules and regulations of the Preparatory Division. You will be responsible for payment of all amounts you owe the university, i.e.: tuition, fees, fines, etc. By registering you agree to make payments promptly and acknowledge that payments will be applied to charges determined by the university. By registering, you also agree to pay reasonable collection and /or attorney's fees necessary to collect any outstanding balance on your account(s).
Collection Fees: the Preparatory Division actively pursues to the fullest extent of the law all financial obligations due including, but not limited to, holds on future registration, liens against income tax returns, referrals to collection agencies, or litigation. Any fee or financial obligation if not paid when due is subject to collection and/or attorney's fees.
Refund Policy
Requests to withdraw from the Program must be submitted in writing to the Director, gretchen.tanner@music.utah.edu or the Assistant Director, prepdiv@music.utah.edu. Verbal requests will not be honored.
Refunds will not be offered once the semester or camp has started. Please see calendar for dates.
Preparatory Division General Fees 2018-19
Registration Fee
$25
Late Fee
$50
Piano Program
Beginning Piano
Fall/Spring Semester
$350
Total Tuition
$700
Tuition Includes: private lesson (weekly), group class (weekly), and materials
Second Year through High School Piano *(Academy level students must sign up for 45 or 60 minute lessons.)
Private Lesson
30 min
*45 min
*60 min
Fall/Spring Semester
$510/sem
$765/sem
$1020/sem
Summer Semester
$34 per lesson
$51 per lesson
$68 per lesson
Tuition Includes: private lesson (weekly), musicianship class (monthly), recitals (twice per year), studio classes (three times per year), bravo reward program.
Adult Beginning Piano
Fall/Spring Semester
$200
Total Tuition
$400
Tuition Includes: group lesson (weekly)
Strings Program
Beginning Strings
Fall/Spring Semester
$350
Total Tuition
$700
Tuition includes: private lesson (weekly), group class (weekly), materials.
Second Year through High School Strings
Private Lesson
30 min
45 min
60 min
Fall/Spring Semester
$510/sem
$765/sem
$1020/sem
Summer Semester
$34 per lesson
$51 per lesson
$68 per lesson

Tuition includes: private lesson (weekly), group class (monthly), recitals (twice per year, studio classes (three per year)
Organ Program
Group Lessons
Fall/Spring Semester
$255
Total Tuition
$510
Tuition includes: weekly group class. An additional one-time materials fee of $20 is required.
Private Lessons
Fall/Spring Semester
$410
Total Tuition
$820
Tuition Includes: eight bi-weekly, hour lessons each semester
Guitar Program
Group Lessons
Fall/Spring Semester
$233
Total Tuition
$466
Tuition Includes: weekly group class and materials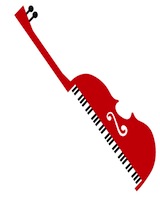 Contact Us:
801-581-7811
Fine Arts West, Building 170 (274 South University Street)
Email: prepdiv@music.utah.edu
Announcements
wEvents