Guitar Ensembles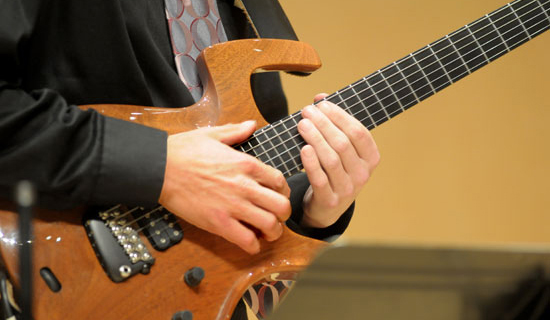 U of U Jazz Guitar Ensembles play original compositions by ensemble members and Jazz Guitar Ensemble Director Geoffrey Miller, as well as arrangements of jazz classics crafted specifically for the unique instrumentation of these ensembles: five guitars, bass and drums.
More…
Ensemble participants develop stronger reading skills in this musical setting. Typically in jazz, rhythm section parts are more improvised and less fully-notated, but the opposite commonly occurs in jazz guitar ensembles. As such, student performers can improve their reading skills, while simultaneously working as a group to achieve a strong and unified sense of ensemble.
In addition to two on-campus concerts a year, the Jazz Guitar Ensembles periodically perform off-campus, such as at regional jazz festivals.
---
Social Media
Director
Auditions
Events