Big Bands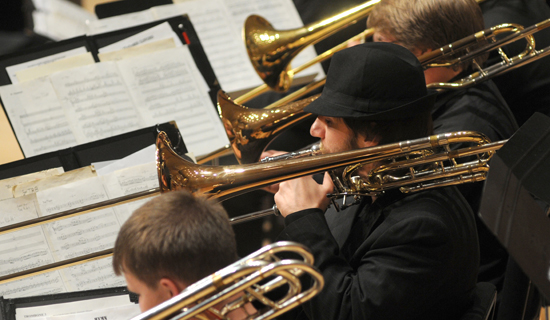 The U's two 18-member Big Bands play a wide variety of big band music from standards by the orchestras of Duke Ellington, Stan Kenton, Woody Herman, and Thad Jones-Mel Lewis to works by today's leading writers such as Jim McNeely, Maria Schneider, Bob Mintzer and Darcy James Argue.
More…
Jazz Big Band members learn to create a tightly unified ensemble sound, work on blend and balance issues and match intonation and phrasing with the rest of the ensemble. Band members also explore those musical components unique to jazz performance, such as solo and accompanimental improvisation.
In addition to four on-campus concerts a year, big band members participate annually in regional jazz festivals, including in-state events, as well as festivals performances in Colorado, Idaho and Nevada. Periodically, Jazz Area ensembles also travel internationally; in 2011, Jazz Ensemble I toured China.
---
Social Media
Director
TBA
Auditions
Events