University of Utah Chamber Choir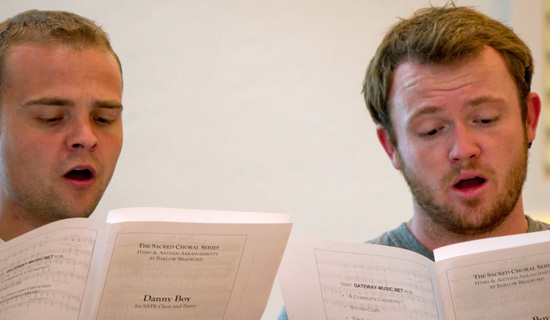 The 32 member University of Utah Chamber Choir offers experienced choral singers the opportunity to explore challenging choral repertoire from the medivial, through contempory periods, including works with orchestra. Chamber Choir performs two concerts a semester, in addition to special engagements in the community, high school outreach, and regular touring.
Through the overwhelmingly generous support of Carolyn and Kem Gardner, each member of the Chamber Choir receives a $2,000 scholarship for the school year.
Reformed in 2012 in honor of former faculty and accomplished choral arranger Bernell Hales, the 32 member Chamber Choir strives for the highest level of choral and artistic excellence under the direction of Dr. Barlow Bradford. Chamber Choir strives to create the most beautiful and exquisite music from a wide array of styles.
The Chamber Choir often collaborates with other ensembles, both from the School of Music and off campus. This includes the Utah Symphony and Dr. Bradford's professional choir, the Utah Chamber Artists.
Students in the Chamber Choir participate in the highest quality choral experience, advancing their vocal technique, artistry, and musicianship. The Chamber Choir is known for its beautifully clear and ringing sound, musical nuance, and impeccable intonation.
For the 2021-22 school year, Visiting Director of Choirs, Dr. Austin Thorpe will direct the Chamber Choir while Dr. Bradford is on sabbatical.
---
Social Media
Director
Auditions
Events