A Cappella Choir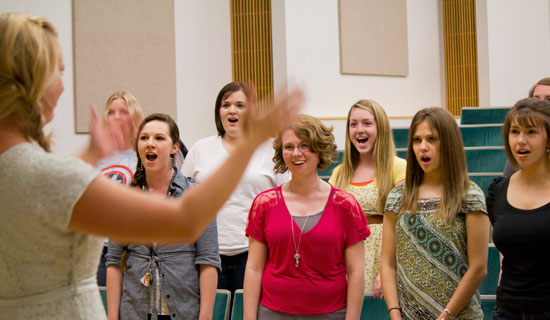 Founded in 1962, the A Cappella Choir continues the tradition of choral excellence built by Dr. Edgar J. Thompson. The 40-80 member A Cappella Choir offers freshman and sophomore singers the opportunity to perform works for larger choirs and to fine-tune the art of choral singing through exposure to music from the Renaissance through the 21st century.
More…
In daily rehearsals, choir members hone musicianship skills such as rhythm, sight-reading and the understanding of complex scores. They develop an understanding of the intricacies of vocal production, including pitch and how to blend individual voices together into a unified, beautiful sound. Finally, members learn how to sing in an ensemble and to successfully meld as a team.
The choir frequently performs with other School of Music ensembles, including the Utah Philharmonia orchestra, the Wind Ensemble, the Chamber Choir and Women's Chorus. A Cappella Choir members leave with the solid choral music foundation that has distinguished the University of Utah throughout the western United States for over a century.
---
Social Media
Director
Auditions
Events