A Cappella Choir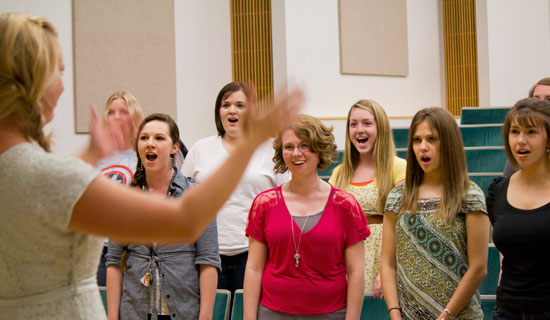 The 40-80 member A Cappella Choir offers any U of U student the opportunity to fine tune the art of choral singing that they began developing in their high school choirs. The A Cappella Choir performs multiple concerts a semester, and at least one in collaboration with other university choirs and orchestra.
Founded in 1962, the A Cappella Choir continues the tradition of choral excellence built by Dr. Edgar J. Thompson. Each rehearsal, choir members hone musicianship skills such as rhythm, sight-reading and the refined understanding of the musical score. Students develop an understanding of the intricacies of vocal production, intonation, and how to homogenize their voices into a cohesive, beautiful sound.
In addition to being lead for the 2021-22 school year by Visiting Director of Choirs, Dr. Austin Thorpe, A Cappella Choir students experience the benefit of being conducted by highly impressive doctoral students who possess a wealth of knowledge and pedagogical instincts.
---
Social Media
Director
Auditions
Events