Infrared A Cappella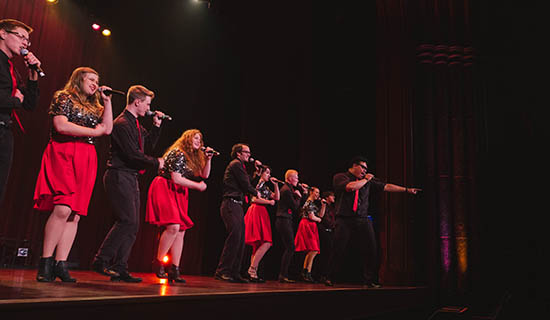 Infrared A Cappella is a small vocal ensemble that specializes in the growing genre of pop a cappella. The group performs primarily original arrangements, including creative mash ups and medleys of popular tunes. They perform regularly on campus for students and faculty, off campus at private and public events, alongside the other University choirs at choral showcases, participate annually in the International Competition of Collegiate A Cappella, and present two concerts each year.
More…
This ensemble provides the experienced singer or vocal percussionist (beatboxer) the opportunity to perform contemporary pop music in the increasingly relevant genre of pop a cappella. The skills emphasized include healthy vocal technique (within the pop vocal idiom), intonation and rhythmic accuracy, stage presence, as well as microphone technique and basic choreography. New members generally exhibit willingness to work closely with others and an interest in the genre of pop a cappella. Previous ensemble experience and music literacy are generally expected, but not required.
Infrared A Cappella is a relatively new addition to the University of Utah School of Music. Having existed on campus for over 6 years in the form of a club, this ensemble was accepted into the Choral Area in the fall of 2016 and is now offered as a class, providing elective credit.
---
Social Media